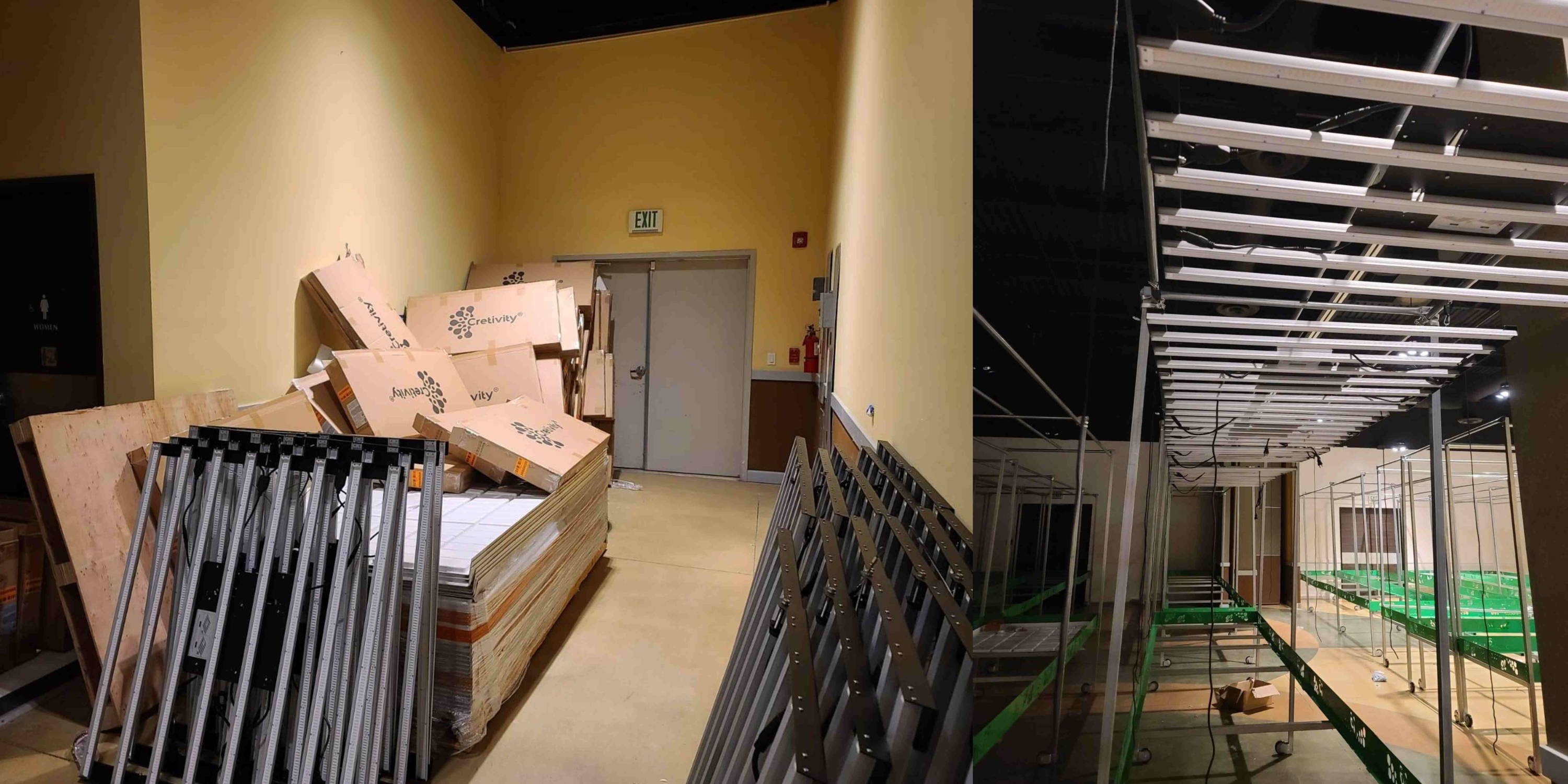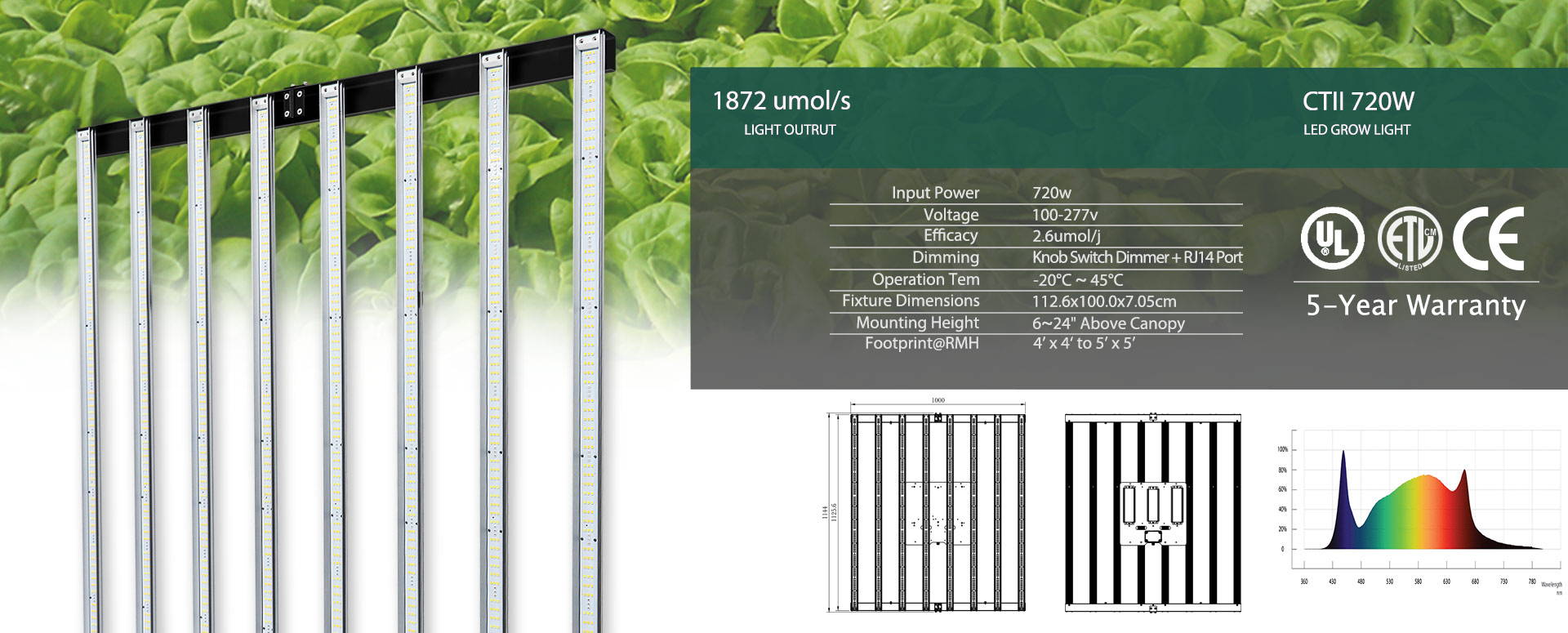 Unveiling Cretivity next generation of high-intensity commercial horticulture LED fixtures, the CTII720W.
By far the most powerful led in its class with a standard ppf of 1872 umol/s. For professional cultivators who demand ultimate ppf output.The CTII720W utilizes top-bin brand diodes to produce a full-spectrum light source and operates at 120-277 volt.The CTII is ETL certified and CE certified.With unbeatable safety, reliability, savings and performance, the CTII is unquestionably the right choice for cultivators who demand only the best.Whether growing flower, food, or ornamental plants, the Cretivity CTII720W was designed for single or multi-tier growers who want to optimize their grow space for the maximum crop yield while producing the highest quality crops.
CRETIVITY TEST AND REVIEW
Full-spectrum with enhanced red for full-cycle grows.
CTII720W LED grow light can repalce a 1100 Watt HPS without sacraficing any light or quality.
Long-life, low maintenance system 50,000 hours based on LM70.
Full spectrum white light output with high-efficiency output up to 2.6 umol/J.
40% energy saving & 40% less HVAC requirement.
ETL certified for commercial production.
Easy Installation and eco-friendly.
Aircraft grade aluminum housing to maintain the lower overall ambient temperature.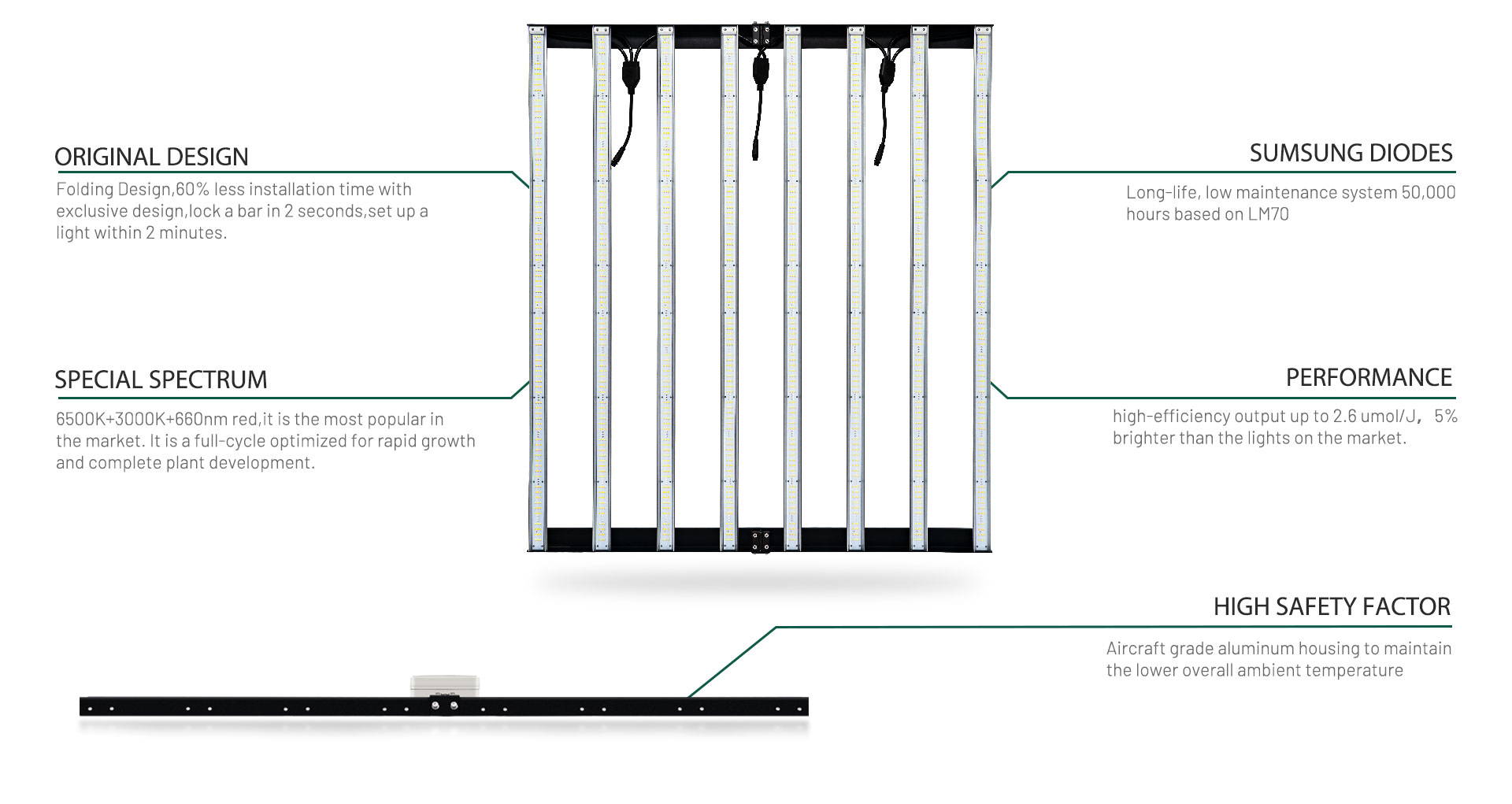 OPTIONAL UPGRADE CRETIVITY UV-IR LED LIGHT BAR SET
A Horticulturally engineered supplemental bar set, which provides a key spectrum to further promote overall health, robust plant growth, and increased resin production. Our new UV-IR bar set is specifically designed to pair with the CTII series!
The bar itself is controllable and dimmable when paired with a Controller. Our UV-IR bar set is a Horticulturally engineered full spectrum UVIR fixture and providing a true full spectrum UVIR solution for the best growing results!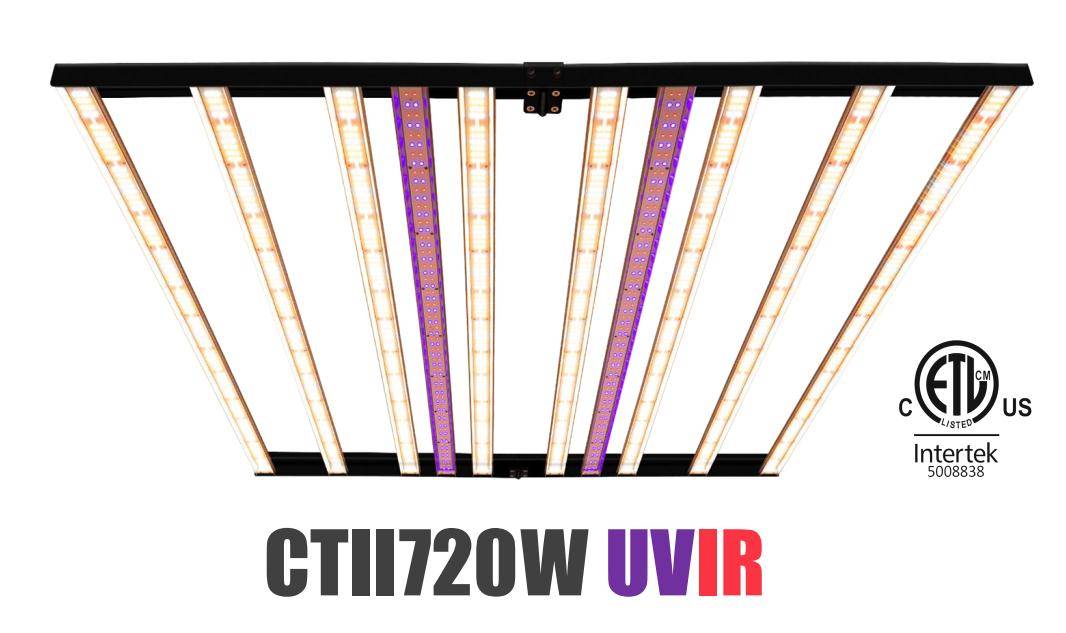 Reliable Passively-Cooled Design
Patent-pending thermal management is the result of our dedication to delivering the most energy-efficient lighting systems for real-world applications. Every Cretivity system is passively cooled
No fans. No noise. No maintenance.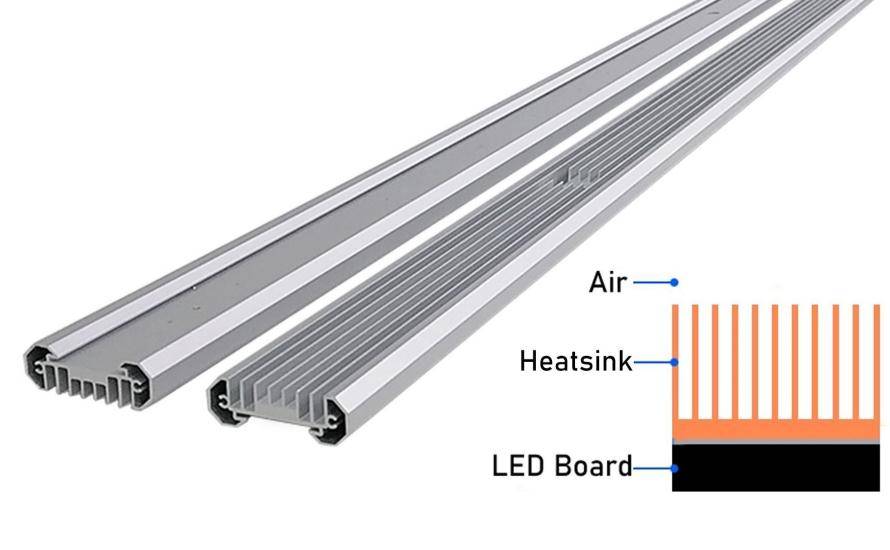 Connects with over 100 grow lights across two zones using standard telephone cables. This compact unit can control lights as far as 500 feet away with no start-up surge. and simulate sunrise and sunset, gradually waking up your plants. It also features brown-outack-out detection and timing for optimal light restart, a built-in clock and 30-year rated battery backup. knows when temperatures in your indoor garden are too high and can automatically respond by dimming your lamps to mitigate environmental stress and plant damage.
To create the most advanced spectrum for complete physiological plant growth, we had to challenge every assumption.
Cretivity CTII is a full-cycle spectrum optimized for rapid growth and complete plant development. Tailored for growing plants from initiation to senescence (germination, clones/cuttings, mothers, vegetative and flowering applications) in indoor environments. Cretivity CTII offers a beautiful work and research environment with vivid colors and greater contrast to study the health of your crop, which helps emmit a full-spectrum, broad-coverage light for full-term growth, perfect for all stages of plant growth. This makeup results in far more potent plants, with greater terpene concentration (which contributes to better flavor and aroma), and larger yields.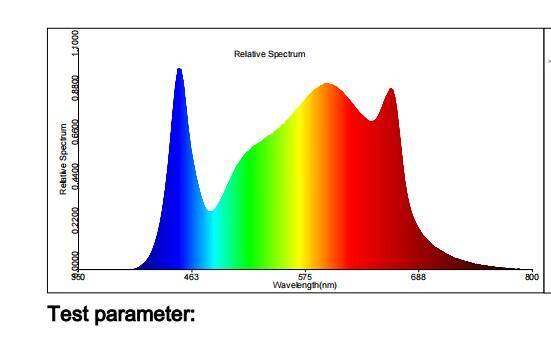 Cretivity CTII Series LEDs Have A Place In Any Grow Room Or Greenhouse
Whether you are a traditional indoor grower, use newer vertical farming techniques, or thrive in a greenhouse, our Cretivity CTII Series will outperform expectations in all applications. Cretivity grow lights are the answer for each stage of the plant's growth, giving you complete control of the season and the length of the day producing denser, more delicious, and more bountiful crops. These grow lights are specialized to increase your yield, improve quality, reduce operating costs, and stay cutting-edge to keep you one step ahead of the competition.

Before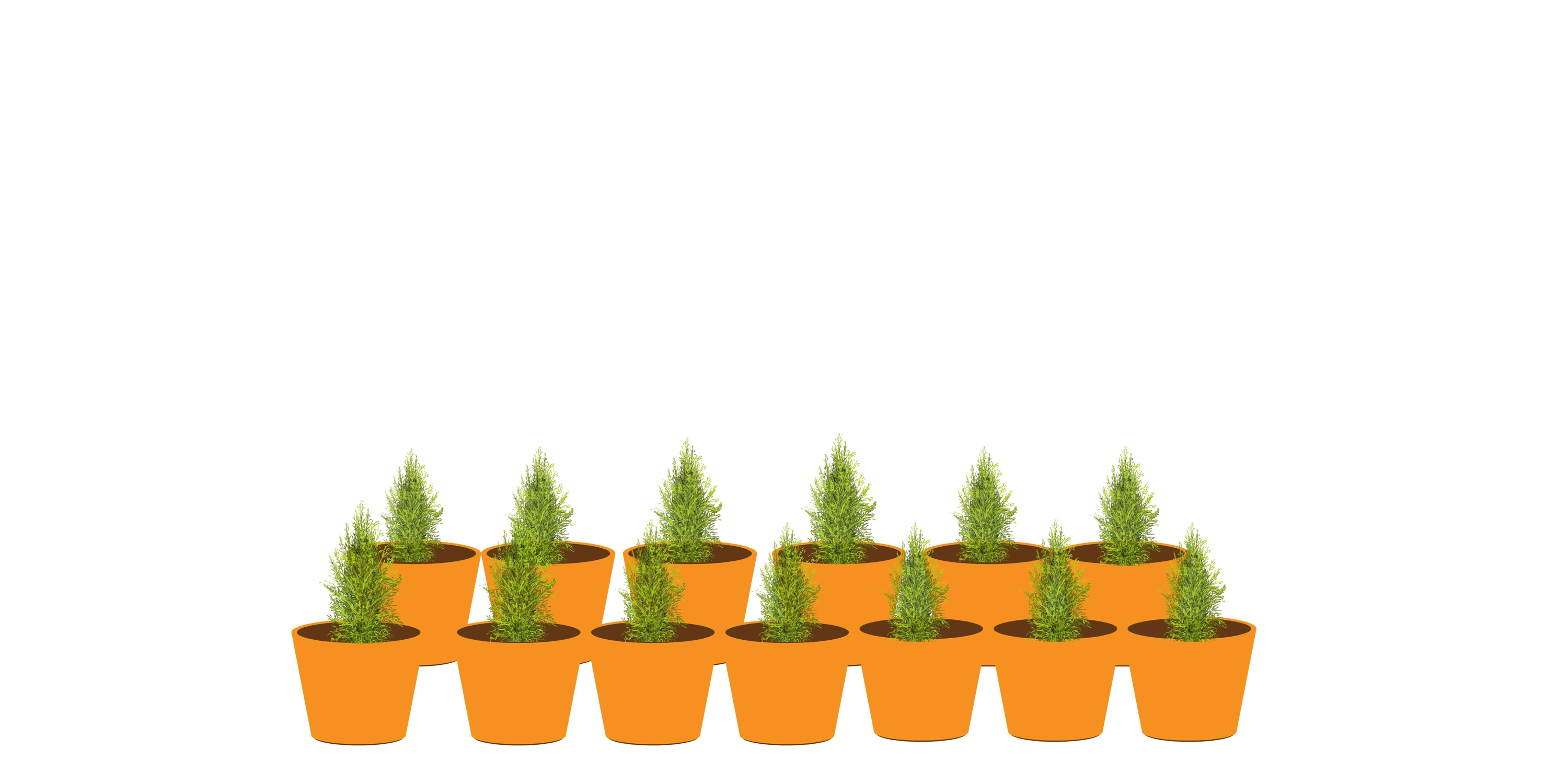 After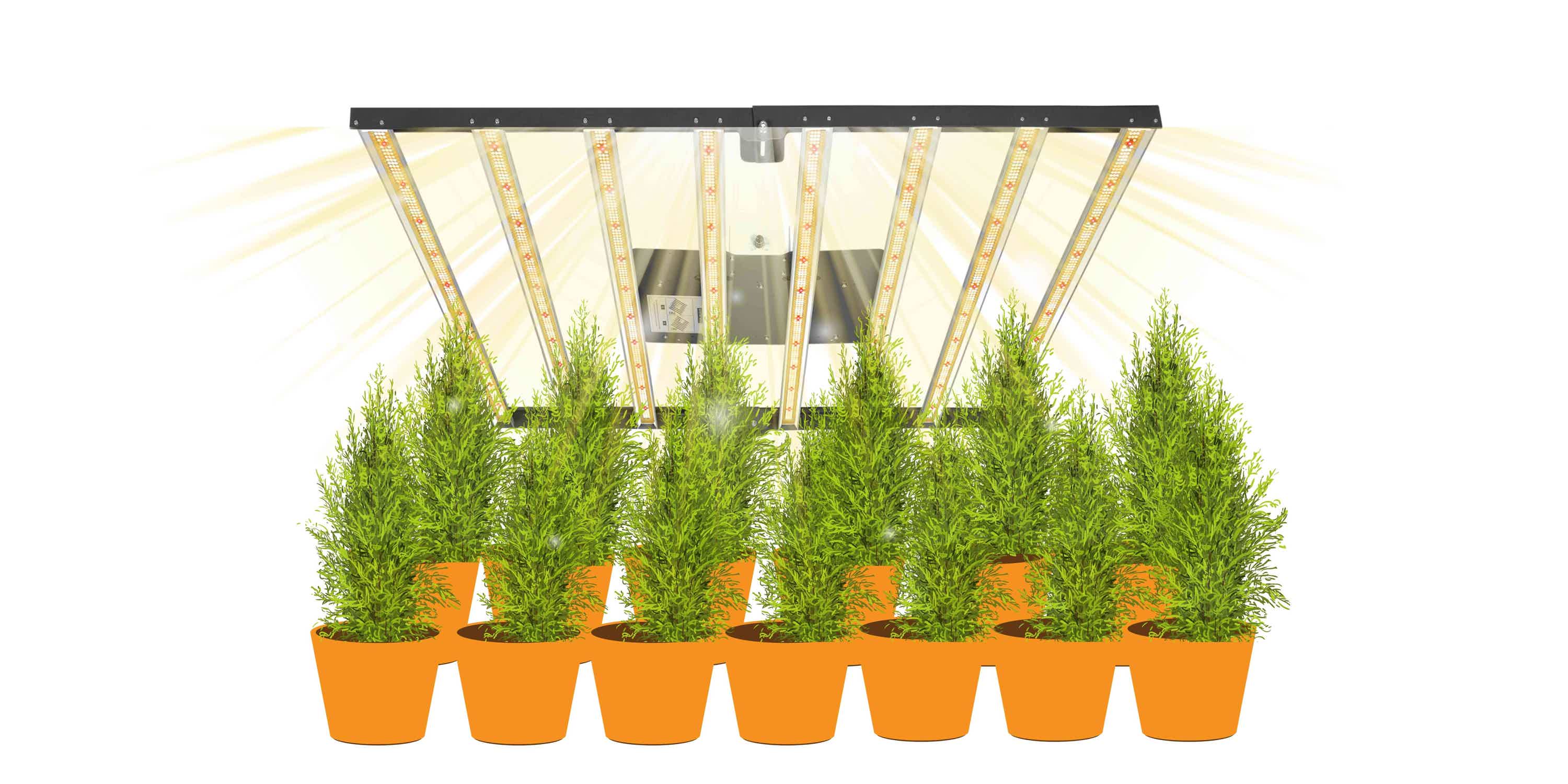 Take your indoor garden or grow tent set-up to the next level with a precise and effeicent premium lighting solution: Cretivity CTII720W. Great fit for 4' x 4' or 5' x 5' indoor grow tents or grow spaces.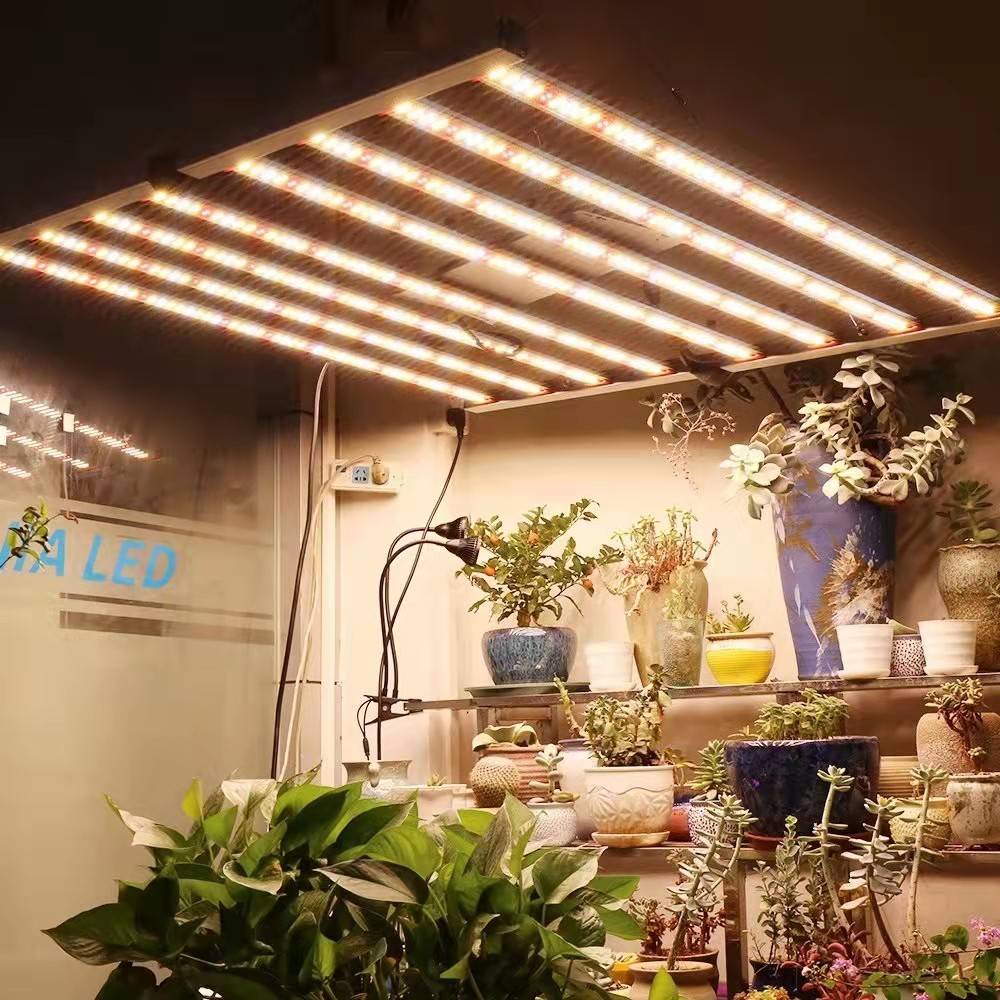 The low profile 6" height and removable power supply of this grow light makes it a perfect vertical gardening light. Quickly detach the power supply and mount on sides of your vertical rack system to grow more(Need to customize the extension power cable).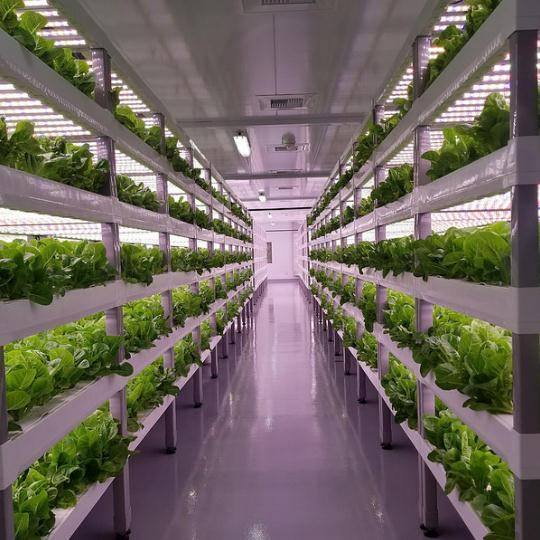 The high waterproof and dustproof rating for damp environments and open style multi-bar fixture design makes this a perfect solution for greenhouse lighting. The grow lights open design will not block natural sunlight, but will provoide additional supplemental lighting when needed.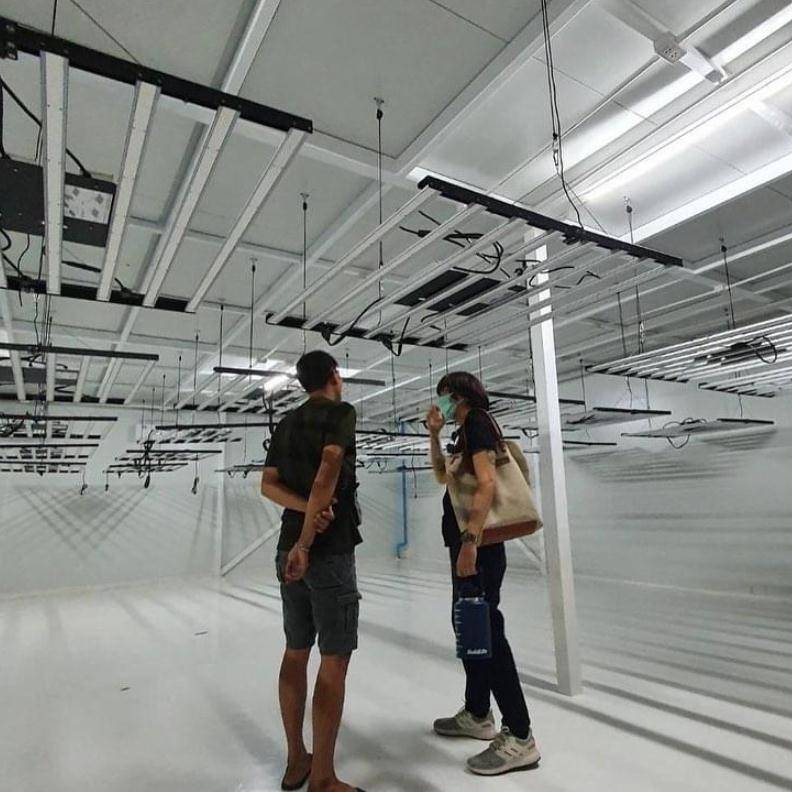 Operating at 720 watts with an output of 1872 µmol s-1, this fixture achieves an impressive efficacy of 2.6 µmol s-1 per watt. Eight passively cooled LED bars provide intense light coverage with no fans or moving parts—significantly reducing the number of possible fail points compared to other fixtures.
The high fixture efficiency of 2.6 μmol s-1 per Watt enables you to finally leap ahead in reducing your HVAC capacity by about 30-40% compared to regular open HPS/MH solutions. The high efficiency and low powered LED configuration with 8 LED bars reduce the temperature of the LEDs – increasing the output and improving their light maintenance.
Cretivity full spectrum LED grow lights are designed to mimic natural outdoor sunlight to help your plants grow healthier and yield better harvests. It will help full cycle growth for your plants.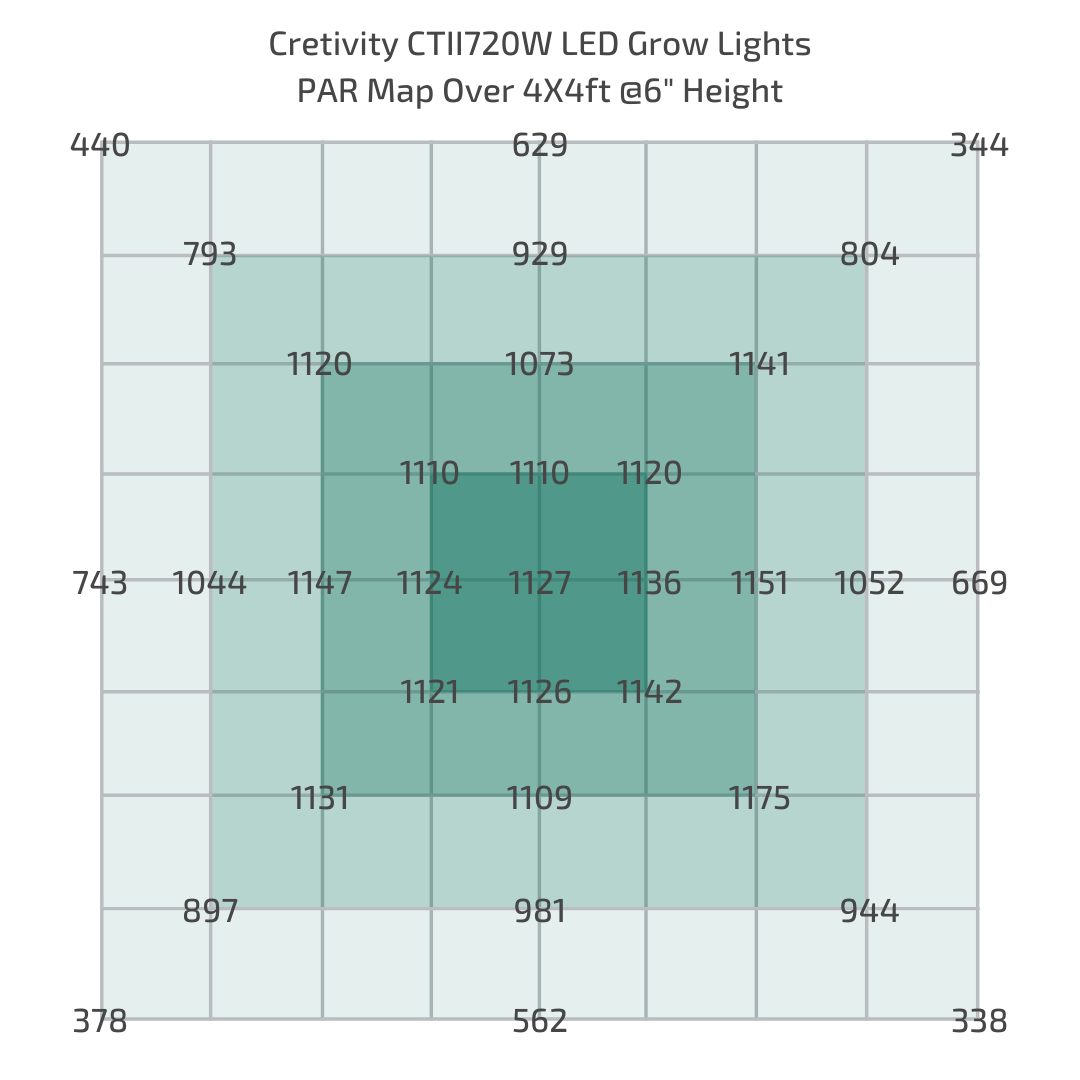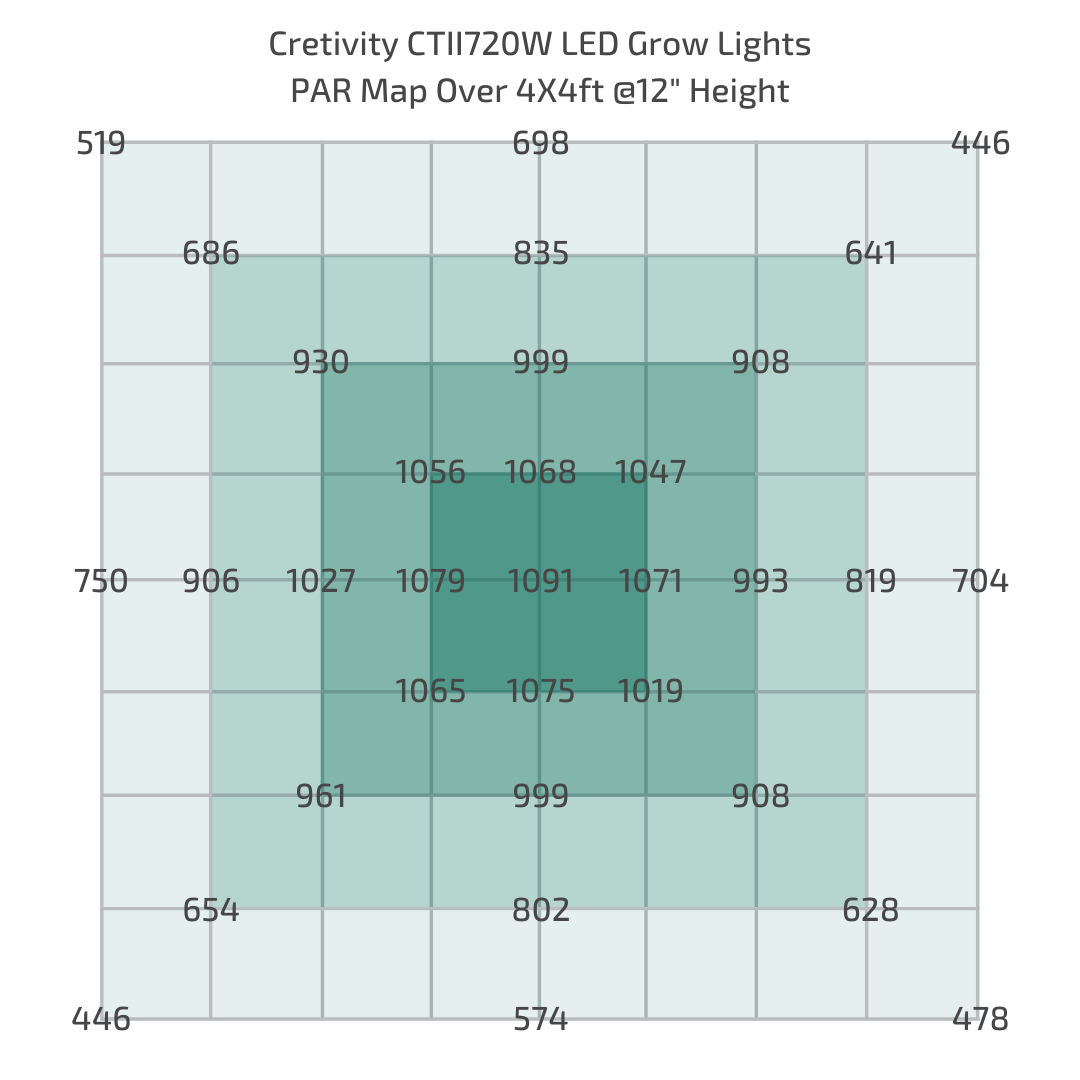 | | |
| --- | --- |
| Spectrum | Full Spectrum White + 660nm Red |
| PPF | 1856umol/s |
| Input Power | 720w |
| Efficacy | 2.6umol/j |
| Voltage | 100-277v |
| Cooling | Passive |
| Dimming | Knob Switch + RJ14 Port |
| Power Factor | 0.95 |
| Operation Tem | -20°C ~ 45°C |
| Fixture Dimensions | 44" x 40" |
| Mounting Height | 6~24" Above Canopy |
| Cord Length | 6.5ft |
| Warranty | 5 Year |
Box Contents
1x Cretivity CTII 720W LED grow light
1x RJ14 Signal Cable
2x Screw
1x Hexagon Small Wrench
2x Heavy Duty Rope Ratchets
2x Instruction

Q1. How to check my order status?
A: After you register on our website, log in from our system, you can check your order status in real time.
If you want to change your shipping address please send to vip@szriotinto.com, marketing01@szriotinto.com.
Q2. How to contact customer service?
A: For any question on product or availability, please feel free to contact us below:vip@szriotinto.com,marketing01@szriotinto.com or chat with us live message.
Q3. How do you ship the goods and how long does it take to arrive?
A: We usually ship by DHL, UPS, FedEx. Usually it takes 3-5 workdays to arrive.
Q4. Can I print my own logo on package, or on the lamp body?
A: Yes. Please inform us formally before our production and confirm the design firstly based on our sample.
Q5: What is the warranty?
A: Yes, we offer 5 years warranty to our products. All the products do 100% testing before shipping.
Q6: How to deal with the faulty?
A: Firstly, Our products are produced in strict quality control system and the defective rate will be less than 0.2%.
Secondly, during the guarantee period, LED faild ,we deliver new led AL PCB board to you;LED driver fail we delivery new driver to you. undefind reason,we delivery new lights
PS: The order confirmation email will be sent to you after you place your order, maybe you can check it in your spam box.
Tel: (+86)-18938862527
WhatsApp: +86- 18938862527
FREE SHIPPING
5-8 days from US warehouse
You are in advanced mode.
You can turn it off in left sidebar. To use advanced options, you will need to enter your own Google Maps API Key.
Get Google API Key
Address:8700 White Oak Ave,Rancho Cucamonga, CA-California, 91730
There is no related products to display.